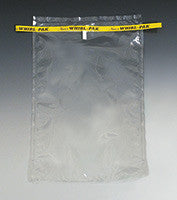 You'll find 6 different sizes of our Whirl-Pak Sterile Sampling Bags in stock. Stock items ship within 24 hours.
Our low density polyethylene Sterile Sampling Bags seal tightly to hold solids or liquids. These bags feature a tear-off perforation at the top of the bag with a double-wire end tabs that secure the bag. 
Allows for a moisture and airtight seal.
Meets FDA and USDA specifications for food contact. 
Sizes are shown as W x L both in inches x Thickness in mil. Prices are per case. 
For sizes not shown here and for pricing on larger quantity orders, please contact info@rksplastics.com.