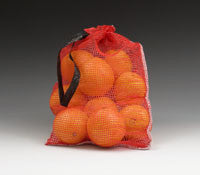 You'll find 6 different sizes of our Red Mesh Produce Bags in stock. Stock items ship within 24 hours.

5 LB, 10 LB and 25 LB Bags
Strong, woven polypropylene bags are durable enough to hold from 5-25 lbs. (depending on the size) of onions, oranges, potatoes, and other produce. Black drawtape can be cinched and tied for easy closure. These size bags do not have a white writing area.

1.5 Cubic Feet, 2 Cubic Feet and 0.75 Cubic Feet Bags
Large mesh bags are strong enough to hold firewood and can also be used to hold heavy fruits and vegetables. Made of heavy-duty polypropylene mesh. UV treated bags have a writing area for quick labeling and drawtape handles that make it easy to cinch and tie closed.

Sizes are shown as W x L in inches, with capacity. Prices are per bundle.