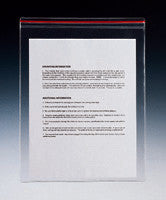 Reclosable Vinyl Envelopes
You'll find 8 different sizes of our Reclosable Vinyl Envelopes in stock. Stock items ship within 24 hours.
Our Reclosable Vinyl Envelopes feature a strong red-line zipper closure to protect and secure important documents from dirt and moisture. Our reusable, semi-rigid heavy-duty 7.5 mil bags are constructed of crystal-clear vinyl that won't crease or tear easily and are both waterproof and weatherproof.
Sizes shown are usable dimensions and are shown as W x L in inches. Prices are per case.
For more information and for pricing on larger quantity orders, please contact info@rksplastics.com.