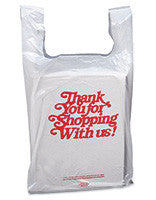 High Density T-Shirt Bags - PRINTED
You'll find 8 different types of our Printed High Density T-Shirt Bags in stock. Perfect for carry-out and retail shops. Stock items ship within 24 hours.

Economical and reusable. These durable bags cost less and are 50-75% thinner than comparable low-density bags. The light, thin-gauge material reduces storage space requirements.

All bags are white with various color print, except for 'Happy Halloween' bag, which is Orange. Sizes are shown as W x L in inches. Prices are per case. Cases come packed 1,000 bags per case.