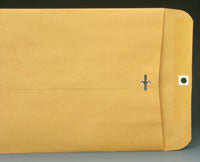 You'll find 12 different sizes of Kraft Envelopes in stock. Stock items ship within 24 hours. Prices are per case.
Clasp Kraft Envelopes
Secure contents' arrival with clasp to seal envelope. To create a reusable envelope, use clasp only. Use clasp and moisten adhesive to create a permanent closure.
Jumbo Kraft Envelopes
Oversized for mailing and storing x-rays, blueprints, proofs, and other large flat items. Lays flat without curling. Use staples or tape to close.
Lip & Tape Kraft Envelopes
Easy-to-use and time saving. Redi-Seal envelopes feature heavily gummed flap that requires no moisture. Simply fold flap and press to close. Light weight reduces mailing cost.
For more information and for pricing on larger quantity orders, please contact info@rksplastics.com.