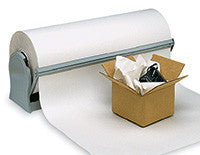 You'll find 4 different sizes of our 30 LB Newsprint Rolls in stock. Stock items ship within 24 hours.

Cut to your desired length. Perfect for economical interleaving, void fill, or wrapping. Clean white paper crumples easily and won't bleed or discolor products.

Sizes are shown as W in inches x Length in Feet. Prices are per roll.