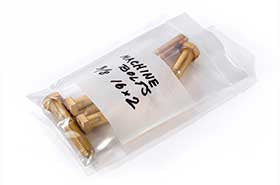 WHITE BLOCK - 4 MIL - Zip-Top Reclosable Bags
Our White Block 4 Mil Zip-Top Reclosable Bags are perfect for heavier-duty use and provide exceptional clarity. These bags feature a white block area on one side of the bag for labelling items. 
The zipper closure keeps out dirt and moisture. Standard stock items ship within 24 hours.
All virgin polyethylene film meets FDA and USDA requirements.
Sizes are shown as W x L in inches. Prices are per case.
For pricing on larger quantity orders or for sizes not listed here, please contact info@rksplastics.com or your RKS Plastics representative.