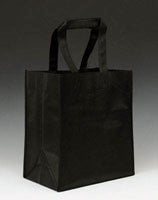 You'll find 2 types of Reusable Shopping Bags in stock. Stock items ship within 24 hours.

Reusable Non-Woven Polypropylene Bags with Handles - BLACK and NAVY
These environmentally friendly bags stand up on their own. Each bag holds more than a standard paper or plastic bag. Bags have reinforced handles to securely carry heavier loads. Remove bottom reinforcement to wipe clean.

Sizes are shown as W x D x L in inches. Cases are packed 100 bags per case. Prices are per case.