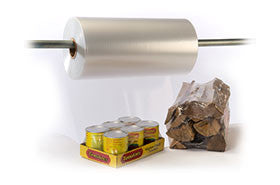 Our 2 mil Shrink Bundling Film is made of a 3-layer polyethylene blend for use with automated packaging equipment with integral heat tunnels for a 'bullseye' closure. Prices are per roll.
Engineered to provide superior tensile strength and puncture resistance for bundling applications while demonstrating consistent shrink performance of 60-80% (MD) and 0-20% (TD). All film is manufactured with 100% renewable energy.
We offer custom tubing, and single wound or centerfolded film.  For custom sizes and for pricing on larger quantity orders, please contact info@rksplastics.com or your RKS Plastics representative.