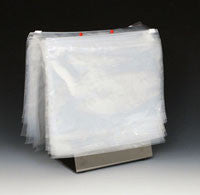 Slider Zip-Top Deli Bags - CLEAR
You'll find 2 different sizes of our Slider Zip-Top Deli Bags in stock. Perfect for use in grocery stores, delicatessens and supermarkets. Our stock items ship within 24 hours.



Our 1.25 Mil Slider Zip-Top Deli bags are pre-opened for fast packaging, and are saddle-packed. The Slider Zip is perfect for Easy Open and Close. Meets FDA and USDA specifications for food contact.

Sizes are shown as W x L in inches. Prices are per case. Usable dimensions are slightly smaller.