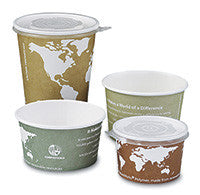 You'll find 4 different types of our Compostable Soup Cups in stock. Stock items ship within 24 hours.

Cups are perfect for hot soup or other liquids and are 100% compostable. Printed with World Art. FDA approved cups are lined with a vegetable-based coating to prevent liquids from absorbing through the cup.

Cups will break down in 60 days in a commercial composting facility. Cups meet ASTM D6868 specifications. Certified by the Biodegradable Products Institute. Not recommended for use in microwaves. Soup lids are sold separately and are not compostable.

Prices are per sleeve.