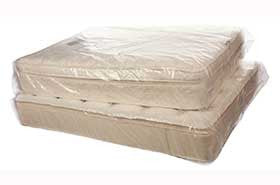 4 MIL - Pillow-Top Mattress Bags
Available in 6 different sizes, our 4 Mil Mattress Bags - Pillow-top Size are vented on both sides 3" from the side, 10" up from the bottom, and 10" up from the bottom, and 10" between each hole. Stock items ship within 24 hours.
Sizes are shown as W x D x L in inches. Prices are per roll.
Mattress bags are wound on 3" cores. Core plugs have 1" diameter holes.
Our mattress bags are manufactured with 100% renewable energy and are engineered to provide three times the impact and twice the tensile strength of traditional low-density polyethylene bags.
We also provide custom size plain and printed bags. For more information, for sizes not listed here and for pricing on large quantity orders, please contact info@rksplastics.com or your RKS Plastics sales representative.