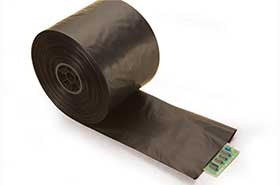 You'll find 7 different sizes of 4 Mil Black Conductive Tubing in stock. Stock items ship within 24 hours.
Our Black Conductive Tubing meets full static decay requirements of MIL-P-82646 Rev B.
Manufactured with 100% renewable energy, our Black Conductive Tubing is wound on 3" cores and core plugs have 1" diameter holes.
Sizes are shown as Width in inches x Ft/Roll. Prices are per roll.
For custom sizes, sizes not listed here, and for pricing on larger quantity orders, please contact info@rksplastics.com or your RKS Plastics representative.