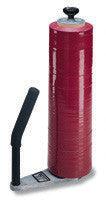 Pink Anti-Static Stretch Wrap
Our Pink Anti-Static Stretch Wrap is available in 2 different sizes. Stock items ship within 24 hours.
Provides superior cling, resists punctures and tears, and protects against dirt and moisture. Wrap around static-sensitive palletized shipments to dispel static charges.
 Ideal for electronic products and medical equipment.  All rolls have a 3" core and are 80 gauge.
Sizes are shown as Width in inches x Feet per roll. Prices are per roll.
For sizes not shown here and for pricing on larger quantity orders, please contact info@rksplastics.com or your RKS Plastics representative.