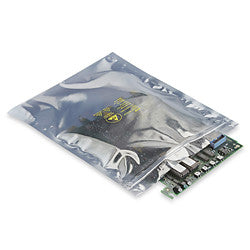 Static Shielding Reclosable Bags
Available in over 20 different sizes, our 3 Mil Transparent Metallic Static Shielding Reclosable bags provide Faraday Cage protection and visibility for highly-sensitive components. Stock sizes ship within 24 hours.
These bags feature a zip-top closure to keep contents secure.
These bags meet the electrical and physical requirements of ANSI/ESD S541, EIA 625 and are ANSI/ESD S20.20 program compliant. Tested per MIL-STD-3010 4046 and ANSI/ESD STM11.11.
Sizes are shown as W x L in inches. Prices are per case.
For custom sizes, sizes not listed here, and for pricing on larger quantity orders, please contact info@rksplastics.com or your RKS Plastics representative.