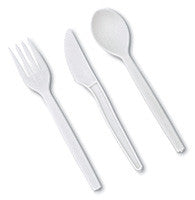 Utensils - Environmentally Friendly
You'll find 3 different types of our Environmentally Friendly Utensils in stock. Stock items ship within 24 hours.

Strong and durable Medium-Weight utensils are made from vegetable starches. Made with 70% renewable materials. Heat stable to 200 degrees F, they are a great alternative to standard plastic utensils.

Prices are per pack.