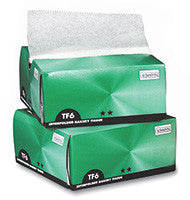 You'll find 2 different sizes of our Waxed Paper in stock. Perfect for use for deli or bakery items. Stock items ship within 24 hours.

Choose from 6 x 10.75 size Waxed Tissue Paper Sheets for a variety of bakery items or 7.5 x 10.75 Waxed Paper Sheets which are grease and moisture resistant and are ideal for deli items. Meets FDA requirements for food contact.
Wax Paper comes packed in dispenser boxes.

Sizes are shown as W x L in inches. Prices are per case.